Russia planning to reinstall Yanukovich – Ukrainian media
Ukrainian sources say Putin plans to appoint twice-ousted president a third time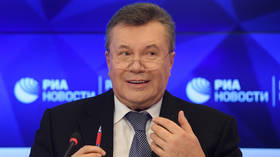 Ukrainian sources claim the Russian government has plans to reappoint former president Viktor Yanukovich, ousted twice in 2004 and 2014. The outlet Ukrayinska Pravda reported on Wednesday that an intelligence source, in Kiev, placed the former leader in Belarus, where peace negotiations recently took place between the Russian and Ukrainian camps, and that he was being prepared for a "special operation."
No proof has been offered to back up the assertion.
The alleged mole said that "according to one of the scenarios," Moscow would try to declare him "president of Ukraine" there. Another option would be to publish "an appeal on his behalf to the Ukrainian people in the near future," the outlet claimed.
Mikhail Podoliak, an adviser to the Ukrainian president's office, decried the supposed idea as proof that Russia would never understand Ukraine, calling Yanukovich a "political corpse." The twice-ousted former president is "such an old outsider with a toxic reputation that the mention of his name sounds even more defiant, definitely will provoke only more resistance."
He likened Russians picking Yanukovich to the idea of "mass meetings of Russian tanks with flowers," mocking the notion that Ukrainians would welcome the Russian military to their streets.
Other names supposedly floated to be part of a "post-invasion" Ukrainian cabinet include Evgeny Muryaev, a member of Yanukovich's Party of Regions, and Viktor Medvedchuk, a Ukrainian tycoon considered to be a personal friend of Russian President Vladimir Putin. Muryaev has already denied any involvement in such a plan, pointing out that he has been under Russian sanctions since 2018.
Western speculators have put the odds on Medvedchuk – leader of the largest opposition party in Ukraine's parliament – though Podoliak dismissed both as "negative characters with a negative reputation."
Yanukovich has a long history with politics not only in Kiev, but in Washington. Paul Manafort, the former campaign manager for Donald Trump, was sentenced to 7 and a half years in prison for unregistered lobbying and bank fraud related to work he had done for Yanukovich, who was the president of Ukraine at the time. A year before Yanukovych was forced to flee to Russia in 2014, Robert Mueller – the special counsel who prosecuted Manafort – also met with the leader. And US President Joe Biden claims to be responsible for asking Yanukovich to resign in 2014.
You can share this story on social media: