Georgia vows to join EU as soon as possible
Caucasus state has harbored ambitions for two decades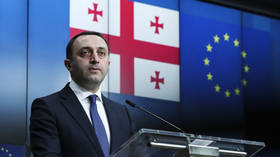 Georgia is rushing to join the EU, requesting that member nations present a final path to membership for Russia's southern neighbor. The Committee on European Integration in the Georgian Parliament has issued a draft resolution on entering the bloc, asking all member states to take "all necessary steps" to speed the country's induction.
FM David Zalkaliani told Imedi TV on Wednesday that he and PM Irakli Garibashvili had "actively communicated" with "European partners" over the possibility of Georgia joining the EU, declaring that "we…will unquestionably take consistent and bold steps [to make sure Georgia is] where it historically belongs. Our society will see this very soon."
Tbilisi Mayor Kakha Kaladze concurred, declaring that if EU members were prepared to make the decision, "Georgia is ready to become a full member of the European Union" immediately.
"Georgia has been doing everything for three decades and brick by brick is building a bridge with the European Union," he continued, insisting that "Our generations, me and my children, are doing everything we can for Georgia to become a member of the European Union as soon as possible." Kaladze added that Georgia "has always stood, stands, and will continue to stand by the Ukrainian people."
It's not clear if the rush to join the EU will affect Georgia's "pragmatic policy," declared last week, of avoiding piling on any sanctions effort against Russia. Garibashvili told reporters at the time that signing up to the raft of economic punishments directed against the country's northern neighbor would "only damage our country and populace more." The current government has blamed its predecessor for starting the war with Russia in 2008.
Former PM Giorgi Gakharia has urged Georgia to take a stronger stand on the issue, demanding Garibashvili's government call for "immediate membership" in the EU. The PM should "use this historic chance," he said, insisting it was time to "remind the whole world that we are the first victim of the Russian aggression." The country's place "together with our traditions, is in Europe," he continued, denouncing his successor's focus on "national interests."
You can share this story on social media: