Russia's largest bank leaves EU
The announcement comes as a number of the country's financial institutions become subject to heavy sanctions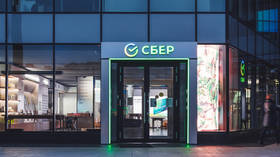 Russia's key state bank has revealed that it will pull out of the European Union's financial markets, citing threats to the safety of employees and its branches in the wake of Moscow's attack on Ukraine.
In a statement on Wednesday, Sberbank announced that the decision had been made as a result of its subsidiary banks facing "an abnormal outflow of funds." The financial giant also claimed that its employees and branches were under threat.
"Due to the instruction of Russia's Central Bank, Sberbank [Russia] will not be able to supply liquidity to its European subsidiaries," the notice read, after the institution took measures to preserve its foreign currency.
However, it offered reassurances that its subsidiary banks had "a high level of capital and quality of assets," and that customer deposits were "insured in line with local legislation."
The departure of Russia's largest lender from the EU does not impact its business in Switzerland, which it said is continuing to operate normally, as it has "a sufficient level of capital and assets to continue its activities."
Sberbank had been operational in a number of EU member states, including Germany, Austria, Croatia, and Hungary, and boasted European assets worth €13bn (over $14.4bn) at the end of 2020.
Brussels revealed on Wednesday that the EU had disconnected embargoed Russian banks from the global payment network SWIFT. A number of major lenders, including VTB and Rossiya, are subject to the cut-off. However, Sberbank and Gazprom are not on the list for now because they are the key channels for payments for Moscow's oil and gas, on which Europe heavily relies.
Russian President Vladimir Putin ordered an invasion of Ukraine last Thursday, after the leaders of the breakaway Donetsk and Lugansk People's Republics, recently recognized by Russia as sovereign states, appealed for assistance in relation to what they said was a sharp spike in "aggression" from Kiev's armed forces. According to Putin, the aim of Moscow's offensive is to "demilitarize" and "denazify" the country.
You can share this story on social media: