Russia claims responsibility for Kiev TV tower strike
Ukraine claims at least five people died as a result of the assault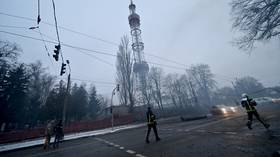 Russia's ministry of defense has confirmed that the country's military had struck a television tower in Kiev on Tuesday, in what it called a bid to thwart "information attacks."
In a statement, a spokesman for the ministry, Igor Konashenkov, claimed that "the technological facilities of the Security Service of Ukraine and the 72nd Main Center for Psychological Operations were hit with high-precision weapons" in the Eastern European nation's capital.
He said that as a result of the assault, "the broadcasting equipment of the TV tower was disabled." According to Konashenkov, there was no damage to residential buildings.
However, Ukrainian authorities believe at least five people were killed and the same number left wounded. Officials said that the TV control room and a power substation were hit, with some channels briefly going off air.
Russian military chiefs had warned prior to the attack about their plans to target a number of military facilities in Kiev, and called on Ukrainians living near relay nodes "to leave their homes."
"Since the beginning of the special military operation, the number of information attacks on various Russian-state institutions has increased," Moscow's defense ministry claimed.
In a statement on Tuesday, Kiev's Foreign Minister Dmitry Kuleba said that the broadcasting facility had been struck by a Russian missile. He added the projectile had also hit the Holocaust memorial site Babi Yar, where at least 33,000 Jews were massacred by Nazi German troops in September 1941.
Russian President Vladimir Putin ordered the incursion into Ukraine last Thursday, after the leaders of the recently recognized breakaway Donetsk and Lugansk People's Republics appealed for assistance in relation to what they believed was a sharp spike in "aggression" from Kiev's armed forces. Putin insisted that its offensive aims to "demilitarize" and "denazify" the country.
You can share this story on social media: