Ukraine accuses Russian Navy of piracy
Civilian ships must stay out of the northwestern part of the Black Sea, the Ukrainian military has said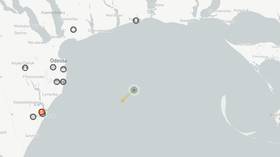 The Ukrainian Navy has closed the northwestern part of the Black Sea to navigation by civilian ships, it announced on Wednesday. The move is intended to protect civilians from acts of piracy by the Russian Navy, a statement published on the Ukrainian military's Facebook says.
Ukraine has claimed that warships from the Russian Black Sea fleet threatened a cargo ship in an effort to force it to enter "a dangerous part" of the region, "so that the occupants could use the civilians as a human shield." The statement claims the Russians vowed to open fire unless the vessel's crew complied.
"It's nothing short of 21st-century piracy," the military declared.
The target of the supposed Russian piracy was identified as Helt, a Panama-flagged general cargo ship. According to maritime traffic trackers, it departed the Ukrainian port of Chernomorsk on February 20 and sailed south. It recently changed direction and is now moving northeast, according to marinetraffic.com data.
The Russian military have not so far commented on the accusations. Russia has previously insisted it is not deliberately attacking civilian targets in Ukraine and that its goal is to dismantle the country's military infrastructure.
Russian border guards have accused Ukrainian troops of launching rockets at two civilian ships and injuring a crew member on one of them.
In a separate incident last week, the Russian Navy reported that it had captured Ukrainian troops stationed at Snake Island, near Ukraine's border with Romania. Kiev had pronounced its soldiers dead at the hand of the Russians, but later acknowledged that its troops had apparently surrendered rather than fought heroically to the last man, as President Volodymyr Zelensky had initially claimed.
Russia launched an offensive against Ukraine last week, claiming it was necessary to protect the breakaway republics of Donetsk and Lugansk and prevent a possible war with NATO in the future. Ukraine and the Western nations supporting it have accused Russia of trying to conquer the nation in an illegal war of aggression. Moscow denies having territorial ambitions in Ukraine and has pledged to withdraw its troops after the country is demilitarized and "denazified."
You can share this story on social media: