China says it's keeping dialogue with Ukraine open
A communications channel between Beijing and Kiev is being kept open, a Chinese foreign ministry spokesman has said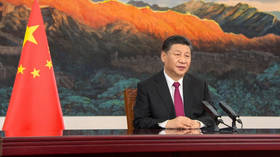 Beijing's spokesman didn't rule out phone talks between Chinese President Xi Jinping and his Ukrainian counterpart Volodymyr Zelensky to discuss the ongoing Russian incursion into Ukraine.
"China and Ukraine are keeping an open communications channel," Chinese Foreign Ministry spokesman Wang Wenbin said during his briefing on Wednesday.
The remark was made in response to a question by a journalist about the possibility of a phone call between Xi and Zelensky in the coming days.
China's Foreign Minister Wang Yi has had phone conversation with his Ukrainian counterpart Dmitry Kuleba on Tuesday, and said Beijing urged Moscow and Kiev to find a solution to the crisis through negotiations, and that it supported all constructive international efforts aimed at stopping the fighting.
The top priorities at the moment were easing the situation on the ground in Ukraine, preventing further escalation of the conflict, while avoiding harm to civilians and the emergence of a humanitarian crisis, Wang Yi said, according to a statement on China's Ministry of Foreign Affairs website.
When Russian troops were sent into Ukraine last Thursday, Chinese foreign ministry spokeswoman Hua Chunying singled out the US as "the culprit of current tensions." By supplying arms to Kiev and mulling the inclusion of Ukraine in NATO, Washington had been "pouring oil on the flames," she said.
Last month, Russia's President Vladimir Putin and Xi issued a joint declaration calling on NATO to stop its eastward expansion, which is seen as a major security threat by Moscow.
On Wednesday, the Russian military said that it had destroyed over 1,500 elements of Ukrainian military infrastructure in less than a week since the start of the invasion.
According to Moscow, its "special operation" was launched in order to demilitarize and "denazify" the Ukraine government, which it says is responsible for "genocide" in the breakaway regions of Donetsk and Lugansk.
Russia insists that its troops aren't attacking any civilian targets, while only striking Ukrainian military installations. Kiev has denounced Moscow for an unprovoked invasion, while the West reacted to the operation by slapping additional harsh sanctions on Russia.
You can share this story on social media: