Kiev announces arrival of more Turkish attack drones
The news of the latest shipment has not yet been confirmed by Ankara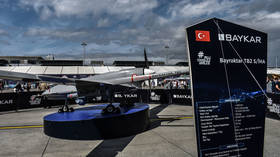 Turkey has delivered additional Bayraktar TB2 strike drones to Kiev, Ukrainian Defense Minister Alexey Reznikov claimed on Wednesday in an emotional Facebook post. The Turkish government did not immediately comment on the statement.
"New Bayraktars have already been delivered and deployed for combat. There will be more Stingers and Javelins," the minister said, referring to Turkish-made Baykar Bayraktar TB2 drones and US-made man-portable anti-aircraft and anti-tank weapon systems. He said the provision of foreign military aid to Kiev was being ramped up.
"Europe is becoming our rear and provides what we need critically for defense. We are at the forefront of the free world," he added.
Individual European Union member states, as well as the UK and US, have promised shipments of military assistance to Ukraine in recent days, with the EU announcing a €450 million package of "lethal aid."
Reznikov's post was mostly devoted to raising the morale of Ukrainians and denouncing Russia for its attack against his country. He called Ukraine's neighbor a "terrorist state" and claimed that, during a phone call with Lloyd Austin, the US Secretary of Defense had praised the fighting spirit and professionalism of Ukrainian troops.
Ukraine purchased 12 Bayraktar TB2s in 2019 and placed additional orders after testing them. Kiev has reportedly pinned its hopes on the Turkish weapons, having seen examples of their successful use by Azerbaijan during its brief armed conflict with ethnic Armenian rebels in the breakaway region of Nagorno-Karabakh in 2020, which ended in a victory for Baku.
Ukraine first deployed a Turkish drone against its own breakaway eastern regions in October 2021. Kiev claimed the deployment did not violate the terms of the Minsk agreements, which required both Ukraine and the rebels to pull back heavier weapons from the front line. The rebels took the opposite view of the strike.
Last week, Russia recognized the separatist Donetsk and Lugansk People's Republics as independent states and pledged to use force to protect them from Ukraine.
Days later, after Kiev refused to withdraw its troops from what the two republics claim is their territory, Moscow launched a massive military offensive against Ukraine. It accuses Kiev of refusing to implement the Minsk Protocol and of making preparations for a large-scale attack against the rebels.
Turkish drones have been listed by the Russian Defense Ministry as being among the Ukrainian military equipment destroyed by its forces during the ongoing conflict.
You can share this story on social media: