Apple stops sales in Russia, censors RT
Company stops product sales, blocks payments and apps over Ukraine conflict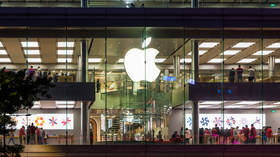 The makers of iPhone and iMac computers rolled out a series of measures on Tuesday in reaction to the "Russian invasion of Ukraine," including disabling some software features, censoring apps, and halting sales and certain services inside Russia.
In a statement on Tuesday afternoon, Apple said it had already stopped all exports to Russia last week and "limited" Apple Pay and other services. As of March 1, "all product sales in Russia" have been stopped as well, and RT News and Sputnik News "are no longer available for download from the App Store outside Russia."
Meanwhile, both traffic and live incidents features in Apple Maps in Ukraine have been disabled "as a safety and precautionary measure for Ukrainian citizens," the company said. This follows a similar action by Google in their Android operating system on Monday.
"We are deeply concerned about the Russian invasion of Ukraine and stand with all of the people who are suffering as a result of the violence. We are supporting humanitarian efforts, providing aid for the unfolding refugee crisis, and doing all we can to support our teams in the region," Apple said, adding it will continue to "evaluate the situation" and communicate with the "relevant governments" about its actions.
US-based Big Tech companies have been quick to respond to calls by governments for censorship and sanctions against Moscow. On Monday, Facebook announced it was "restricting access to RT and Sputnik" across the EU. Google did the same with its YouTube platform. Both companies quoted government requests.
Russia sent troops into Ukraine last week, calling it a special operation to demilitarize and "denazify" the government in Kiev over a "genocide" in the breakaway Donbass regions. Ukraine has accused Moscow of an unprovoked invasion, which was echoed by the US and its allies, who introduced an array of economic sanctions they said were intended to "cripple" the Russian economy in the long-term.
You can share this story on social media: