Biden orders more aid to Ukraine
The package would include $350mn in military assistance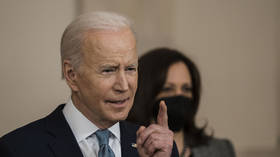 US President Joe Biden ordered Secretary of State Antony Blinken to come up with a reason to justify $600 million in aid to Ukraine on Friday, including $350 million in military assistance.
In a memo to Blinken, Biden told the secretary of state to fulfil the legal requirements to enable "up to $250 million in assistance" to be sent to Ukraine and up to $350 million "in defense articles and services of the Department of Defense, and military education and training."
On Friday, Biden accused Russian President Vladimir Putin of threatening "the very foundations of international peace and security" and reaffirmed the US' support for Ukraine in the country's conflict with Russia.
"President Putin has failed in his goal of dividing the West. NATO is as united and resolute as it's ever been, and NATO will maintain its Open Door to those European states who share our values and who one day may seek to join our Alliance," Biden said in reference to Ukraine.
NATO Secretary General Jens Stoltenberg also announced on Friday that NATO would provide more weapons in support of Ukraine.
The US government has sanctioned Putin and other Russian government officials and this week proposed a United Nations resolution demanding an immediate withdrawal of Russian troops from Ukraine. Moscow blocked the resolution, while China, India, and the United Arab Emirates (UAE) abstained from voting.
Conflict in Ukraine broke out after Russian President Vladimir Putin announced military action aimed at "demilitarizing" and "denazifying" the country. Russia argued that military action was a necessary measure to protect the Lugansk and Donetsk People's Republics in the Donbass, which had requested Russian military assistance against "Ukrainian aggression" this week.
Kiev, on the other hand, has accused Moscow of conducting an "unprovoked" attack, and many Western powers, including the US, UK, EU, and NATO, have condemned Russia's military operations and announced sanctions.
You can share this story on social media: