US resolution on Ukraine blocked
Moscow vetoes a UN proposal by US and Albania demanding "immediate" Russian withdrawal from Ukraine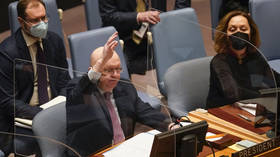 Russia blocked the UN Security Council resolution on Friday condemning its military operation in Ukraine and demanding the withdrawal of Russian armed forces from the country.
Eleven members voted in favor of the US proposal on Friday, while China, India, and the United Arab Emirates abstained.
The proposal was put forth by the US and Albania and called for Moscow to immediately pull out its troops, stop using force against Ukraine, and revoke its decision to recognize two breakaway regions of Donetsk and Lugansk as independent states.
As one of the five permanent members of the UN Security Council, Russia has the right to veto any resolution. Such a move was expected, according to AP, but the US and its allies argued that it would "highlight Moscow's international isolation."
Alongside the US and Albania, the UK, France, Ireland, Norway, Gabon, Mexico, Brazil, Ghana, and Kenya voted in favor. China, the UAE, and India abstained, with New Delhi's envoy urging a return to the path of diplomacy and dialogue, "however daunting that may appear at this moment."
Washington may now take the matter to the General Assembly, whose resolutions cannot be vetoed but are also not legally binding.
Russia had recognized the two Donbass republics on Monday, citing Kiev's failure to implement any of the arrangements for their peaceful reintegration it had agreed to seven years prior in Minsk. The two republics then invoked their mutual aid treaty with Russia to request military aid.
Early on Thursday, Russian President Vladimir Putin ordered troops into Ukraine to "demilitarize and denazify" the "regime" in Kiev and defend the population of the breakaway republics. Moscow has since offered terms to Ukraine, which include a pledge of neutrality and refusal to host foreign weapons systems on its soil.
Ukrainian President Volodymyr Zelensky has called Moscow's actions unprovoked and claimed he never had any plans to attack the Donbass. Over the past two days, he has alternately called for peace talks and vowed to fight to the death.
You can share this story on social media: