US to sanction Putin – White House
Washington will target the Russian president over Moscow's operation in Ukraine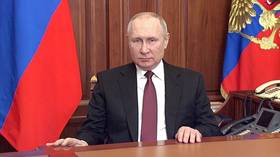 The US is planning to sanction Russian President Vladimir Putin personally over the military operation in Ukraine, the White House said on Friday. The EU and UK had sanctioned Putin and Foreign Minister Sergey Lavrov earlier in the day.
White House Press Secretary Jen Psaki told the media that Putin and Russian Foreign Minister Sergey Lavrov will be sanctioned, along with members of Russia's national security team. The sanctions will include a US travel ban.
Putin was not among the targets of the sweeping sanctions US President Joe Biden announced on Thursday over what he called an "invasion" of Ukraine. He said the sanctions were aimed at causing a long-term impact to cripple the Russian economy. However, Biden has added that the option of blacklisting the Russian president personally was still "on the table."
The UK announced sanctions against Putin and Lavrov personally on Friday evening. Prime Minister Boris Johnson has urged the EU and the US to also ban Russia from the SWIFT banking network so as to "inflict maximum pain on President Putin and his regime."
Several EU countries have rejected SWIFT sanctions, as this would block them from buying energy from Russia and hurt their exports as well. Biden insisted that the sanctions he had imposed were "stronger" than a SWIFT ban.
The first US sanctions against Russia came on Tuesday, after Putin recognized the independence of the Donetsk and Lugansk People's Republics, who then requested military help from Moscow.
Russian troops moved into Ukraine on Thursday morning, with Putin insisting the mission was necessary to "demilitarize and denazify" the "regime" in Kiev. Ukraine claims it had no plans of a full-blown attack on the Donbass republics and has been calling the offensive "unprovoked."
You can share this story on social media: