UK adds Putin and Lavrov to sanctions list
Prime Minister Boris Johnson suggested the Russian president's "ambitions" would not stop with Ukraine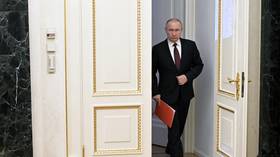 British authorities have added Russian President Vladimir Putin and Foreign Minister Sergey Lavrov to the country's official sanctions list, updates posted by HM Treasury showed on Friday evening.
Earlier, Prime Minister Boris Johnson announced that he was adding to a package of measures against Moscow by sanctioning Putin and Lavrov personally. He made the comments in a virtual meeting of NATO leaders on Friday.
Downing Street confirmed the announcement in a public statement, saying Johnson was also encouraging NATO countries to push for a ban on Russia using the SWIFT payment system, which connects financial institutions across the world.
"The prime minister urged leaders to take immediate action against SWIFT to inflict maximum pain on President Putin and his regime," the spokesperson said, explaining that the latest measures were in addition to those announced on Thursday. The Treasury office subsequently updated its list of financial sanctions targets to include Putin and Lavrov.
Johnson accused Putin of "engaging in a revanchist mission to overturn post-Cold War order." He said the first wave of sanctions was intended to "hobble" the Russian economy in retaliation for Moscow's attack on Ukraine.
The British PM claimed Putin's "ambitions" would likely not stop with Ukraine. "He warned the [NATO] group that the Russian president's ambitions might not stop there, and that this was a Euro-Atlantic crisis with global consequences," Downing Street said.
The European Union also announced that it had imposed sanctions on the president and his foreign minister on Friday, and that its member states had agreed to freeze their personal assets.
Moscow launched its "special military operation" in Ukraine in the early hours of Thursday morning, with the Russian military attacking military installations in the country. Putin said the operation was aimed at the demilitarization and "denazification" of Ukraine and claimed it was the only way to stop Kiev's attacks on the Donetsk and Lugansk People's Republics, which were recognized as sovereign states by Moscow on Monday.
You can share this story on social media: