Russia's largest airline responds to UK suspension
Aeroflot has suspended its flights to London and the Irish capital Dublin in response to the British ban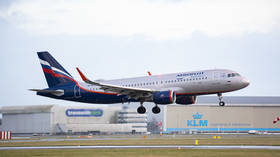 Major Russian air carrier Aeroflot has responded to a recent suspension of its flights by UK authorities by announcing a halt to all of its services to the British and Irish capitals.
"Due to restrictions imposed by the UK authorities, Aeroflot is suspending all flights to London and Dublin until May 23, 2022," the airline announced on Friday.
Earlier in the day, Russia's Federal Agency for Air Transport said all UK-registered flights are banned from its airspace.
On Thursday, UK Prime Minister Boris Johnson announced a ban on all flights from Aeroflot in response to Russia's attacks on Ukraine. The UK Civil Aviation Authority (CAA) suspended the company's foreign carrier permit "until further notice."
"This means that Aeroflot will not be permitted to operate flights to or from the United Kingdom until further notice," the organization added.
The sweeping ban was due to "Putin's heinous actions," according to Transport Secretary Grant Shapps.
I've signed restrictions prohibiting all scheduled #Russian airlines from entering UK airspace or touching down on British soil. Putin's heinous actions will not be ignored, and we will never tolerate those who put people's lives in danger.

— Rt Hon Grant Shapps MP (@grantshapps) February 24, 2022
"No aircraft on a scheduled service which is owned, chartered or operated by a person connected with Russia, or which is registered in Russia shall fly in United Kingdom airspace," the UK Department for Transport said in their announcement.
Premier League team Manchester United also recently ended their commercial partnership with Aeroflot "in light of the events in Ukraine," after they had renewed a sponsorship deal with the airline in 2017.
The UK's flight ban was part of a package of sanctions against Russia over the conflict with Ukraine. The US has also imposed sanctions in coordination with NATO allies, though a ban on Aeroflot has not been announced, which runs flights into major cities like Los Angeles, Washington DC, Miami, and New York City.
You can share this story on social media: