State of Chernobyl plant revealed after fighting
The maintenance of the crippled nuclear power plant continues, a key UK-based investment body says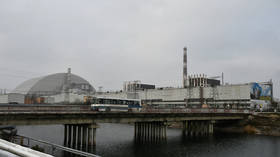 The Russian military operation in Ukraine has dealt no damage to the defunct Chernobyl nuclear power plant, the European Bank for Reconstruction and Development (EBRD) confirmed on Friday. The major London-based investment bank added that essential maintenance work at the site of the 1986 nuclear disaster is ongoing.
"The information we currently have is that the existing infrastructure of the New Safe Confinement and the Interim Spent Fuel Store 2 (ISF2) has not been damaged and the essential operational and maintenance tasks are being undertaken," the EBRD said in a statement to Reuters.
On Thursday, Russian forces entered the northern Ukrainian ghost city from Belarus and captured the former power plant after what Kiev has claimed was "fierce fighting" in the Exclusion Zone. The Chernobyl plant generated the worst nuclear catastrophe in history in 1986, when reactor four went into meltdown. Moscow has confirmed that it was in control of the area on Friday.
The Ukrainian nuclear agency and interior ministry claimed earlier in the day that there were increased radiation levels from the site of the defunct power plant. Experts cited by Reuters were unsure of the reasons why but suggested it was due to movement of heavy military equipment in the area lifting radioactive dust into the air.
The EBRD – an International Financial Institution set up to invest in the transitioning socialist nations of the Eastern Bloc in the early 1990s – has overseen a project to build a shelter on top of the highly radioactive plant.
The gigantic steel sarcophagus, which took years to construct, covers the dilapidated old structure around the crippled reactor, which will remain radioactive for years to come.
You can share this story on social media: