Ukraine needs more than 'advice' from West – Erdogan
Turkey's president has called on NATO allies to take more concrete steps to help Ukraine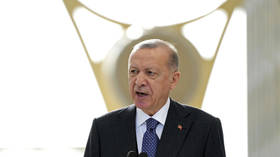 Turkish President Tayyip Erdogan has called on NATO to take "a more decisive step" to help Ukraine amid an ongoing Russian military operation in the country.
"It should not turn into an ordinary flurry of condemnation. NATO should have taken a more decisive step," Erdogan said ahead of the virtual NATO summit on Friday.
The Turkish leader accused the EU of only "giving advice" to Ukraine instead of taking concrete steps to help. Such an attitude, Erdogan said, fits the concept "neither of friendship nor of solidarity."
Erdogan's comments echo earlier statements from Ukraine's President Volodymyr Zelensky, who said his country was left to face Russia on its own, while other countries "have been observing [the war] from a distance."
Earlier on Friday, however, Turkey declared that it could not fulfill President Zelensky's request and to close the Bosphorus and Dardanelles Straits to Russian vessels.
Turkish Foreign Minister Mevlut Cavusoglu, speaking in Kazakhstan, explained that, under the 1936 Montreux Convention, Russia had the right to return ships to their home base in the Black Sea. It means that Turkey could only prevent Russian ships from traveling in the opposite direction, towards the Mediterranean, he said.
Moscow launched a military attack on Thursday, aiming to "demilitarize" and "denazify" Ukraine. The offensive has prompted an international outcry and the imposition of new sanctions by the US, the EU, the UK, and other countries.
Erdogan condemned Russia's military operation, saying it "violates international law and poses a threat to regional stability." He also pledged to support Ukraine's sovereignty and territorial integrity while maintaining ties with Russia.
You can share this story on social media: