Russia says it captured airfield outside Kiev
Moscow claims Ukrainian capital is now blocked from the west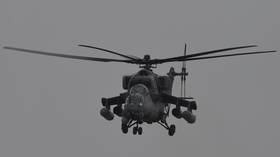 The Russian military announced on Friday afternoon that its forces have "successfully" captured the Hostomel airfield near Ukraine's capital, Kiev.
Russia launched an attack against Ukraine on early Thursday morning, arguing that the move was necessary to protect the people of the two Donbass republics against the Ukrainian Army. The Russian Defense Ministry said that, using more than 200 helicopters, its troops seized the airfield the same day.
Major General Igor Konashenkov, a spokesman for the ministry, said that "there were no casualties among the Russian Armed Forces."
Konashenkov also claimed that "more than 200 nationalists from Ukraine's special forces were killed during the capture of the airfield."
Kiev has not confirmed the loss of the airfield or Russia's claim about casualties. Ukrainian officials and the media reported heavy fighting over Hostomel on Thursday and throughout Friday.
Konashenkov stated that Russian troops are operating "near Kiev and other cities," without specifying any locations or the objectives of the units. Ukraine said earlier that Russian forces had crossed the country's border in several places.
The Russian attack on Ukraine began after reports of massive shelling along the line separating the Ukrainian Army and the forces of the Donetsk and Lugansk People's Republics (DPR and LPR), with each side blaming the other for ceasefire violations. On Monday, Moscow recognized the independence of both republics that broke off from Ukraine after the 2014 coup in Kiev.
President Vladimir Putin explained the decision by blaming Kiev's inability to implement the 2014-2015 ceasefire agreements with the Donetsk and Lugansk. The two regions accused Kiev of planning a full-blown assault on them and appealed to Moscow for help. Ukraine has denied plans to retake the rebellious regions by force and rallied its allies in the West and elsewhere to come to its aid against Russia.
Several countries, including EU member states, Britain, and the US, have imposed new sanctions against Russia, hitting its banks and the largest airline, among other entities. UN Secretary General Antonio Guterres has urged Moscow to stop its military campaign against Ukraine.
You can share this story on social media: