EU adopts Russia sanctions over Donbass recognition
The bloc has targeted Russian entities and individuals that it says had a role in the recognition of Donetsk and Lugansk breakaway republics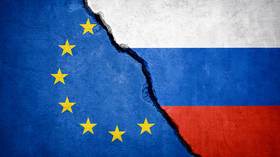 The European Union has officially adopted new sanctions against Russia on Wednesday, in reaction to Moscow's recognition of the breakaway Donbass republics' independence from Ukraine. The measures, which the EU will publish in full before the end of the day, reportedly target some of the top officials in President Vladimir Putin's government.
Brussels has also now placed sanctions on all 351 members of the lower chamber of the Russian parliament – the State Duma – who supported the recognition of the Donetsk (DPR) and Lugansk (LPR) People's Republics.
"Restrictive measures include an asset freeze and a prohibition from making funds available to the listed individuals and entities. In addition, a travel ban applicable to the listed persons prevents these from entering or transiting through EU territory," the bloc's statement said.
The sanctions have also targeted 27 "high profile individuals and entities," the EU said. The bloc has not specified the names in its initial press release. A report by the New York Times has, however, claimed it includes officials from the "inner circle" of Putin. Russia's Defense Minister Sergey Shoigu, as well as Putin's chief of staff Anton Vaino are reportedly on the list.
Apart from targeted restrictions, the EU's sanctions package also includes a set of economic measures. The bloc has agreed to "introduce a sectoral prohibition to finance the Russian Federation, its government and Central Bank," limiting Moscow's ability to access the European financial markets. Apart from Russia, the package also targeted the breakaway republics, imposing import and export bans, restricting investment and so on.
On Monday, Putin recognized the Donbass breakaway republics as independent states, claiming it was the only option to protect people living there. After declaring their autonomy from Ukraine following the events of the 2014 Maidan, the region endured years of low-intensity warfare, facing off Kiev forces on the so-called line of contact.
Shellings reportedly sharply escalated in February, with each side accusing the other of carrying out attacks. The Kremlin claims that Ukraine's authorities have shown no will to resolve the crisis through negotiations, gearing up instead to retake it by force.
Kiev denies harboring plans to launch an all-out attack on the republics, while top western officials and media have repeatedly claimed that Russia itself has been preparing an 'invasion' of Ukraine, a charge Moscow has rejected as "fake news."
You can share this story on social media: