Russia's recognition of Donbass republics – actions, reactions and sanctions
Moscow has formalized its ties with the breakaway Ukrainian republics, sparking a flurry of sanctions from the West and a threat from Kiev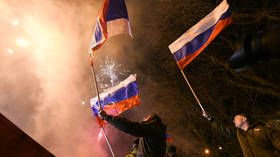 Russian President Vladimir Putin's decision on Monday to recognize the Donetsk People's Republic (DPR) and Lugansk People's Republic (LPR) as independent from Ukraine has elicited responses ranging from elation in the Donbass to condemnation in Kiev and Western capitals.
Putin's recognition and his request to deploy the troops abroad received unanimous support in the Russian parliament on Tuesday, but also near-universal condemnation in the collective West, with the US, the UK, and the EU swiftly moving to impose sanctions on Moscow.
Here is how the situation has unfolded so far.
You can share this story on social media: