German Navy chief resigns over Putin 'respect' comments
Vice Admiral Kay-Achim Schoenbach has stepped down amid a diplomatic row caused by his 'personal opinion'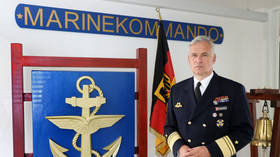 The head of the German Navy, Vice-Admiral Kay-Achim Schoenbach, vacated his post on Saturday evening – just a day after saying that Crimea "will never come back," and that Vladimir Putin and Russia "probably deserve respect."
Schoenbach asked Defense Minister Christine Lambrecht to "relieve me of my duties with immediate effect," with the minister accepting his resignation, according to a statement cited by Reuters.
Speaking at an event organized by an Indian think tank in New Delhi on Friday, the vice-admiral dismissed as "nonsense" the notion that Russia was "interested in having a small and tiny strip of Ukraine soil and integrating it into their country."
Schoenbach went on to claim that what President Putin wanted was the West to "respect" Russia, adding that "it is easy to give him the respect he really demands – and probably also deserves." Addressing the issue of Crimea, the German Navy commander opined that the "peninsula is gone" and "will never come back – this is a fact."
Schoenbach's comments, which he insists were made in a private capacity, stirred up a diplomatic controversy, with Ukraine's Foreign Ministry summoning the German ambassador to the country, Anka Feldhusen, on Saturday. Kiev described his remarks as "unacceptable."
Germany's Defense Ministry immediately distanced itself from the controversial statements, with its spokesperson characterizing the vice-admiral's comments as not reflecting "in any way the position" of the ministry, both "in terms of the content and choice of words."
In an apparent bid to defuse the situation, the now former navy commander took to Twitter earlier on Saturday, saying that he "should not have done it that way," and describing his remarks as a "clear mistake." Several hours later, his name and photo disappeared from the official navy chief's Twitter handle, and its bio was changed to "currently vacant."
Moscow has consistently rebutted claims made by Western media and senior officials, according to which Russia is allegedly planning to invade its neighbor any day now. The Kremlin has called the idea "fake news," while taking issue with the fact that some Western nations are sending weapons to Ukraine. Last month, Russia sent proposals to the US and NATO for treaties with security guarantees, but so far negotiations were unsuccessful in finding terms for an agreement.
You can share this story on social media: