Former Ukrainian President Poroshenko's dramatic return to fight 'treason' charges
The case is the latest in a series of prosecutions brought against high-profile politicians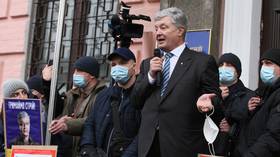 Petro Poroshenko, who served as the president of Ukraine until 2019, is facing an acrimonious criminal prosecution on a string of charges, including treason, which could see him put behind bars for more than a decade if convicted.
The former leader, who is also one of the country's wealthiest oligarchs, returned to the country on Monday to face the allegations. Poroshenko, who has amassed an estimated $1.6 billion fortune from industries such as confectionery, denies the claims and has branded the prosecution politically motivated, vowing to fight them. Now, though, Ukraine's 'chocolate king' has been ordered to surrender his passport and wear an electronic monitoring tag to ensure he does not flee the country.
The hearings are expected to resume on Wednesday.
You can share this story on social media: