Russia using gas as blackmail tool – Ukraine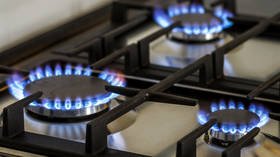 Russia is purposefully keeping the level of gas delivered to Western and central Europe at a low level in order to force Germany to certify the controversial Nord Stream 2 pipeline, Ukraine's Gas Transport System has claimed.
In a Monday Facebook post, Sergey Makogon, the head of Kiev's state-run network, attacked Russian energy giant Gazprom for sticking to the terms of its contract rather than increasing the gas flow during the cold European winter.
Transiting gas from Russia to Europe is an important part of Ukraine's economy, and the country receives billions of dollars annually from Russian energy giant Gazprom for the use of its aging facilities, which were constructed by Moscow during the Soviet period.
"Despite the staggering EU gas prices… Gazprom did not reserve additional capacity for January. Therefore Gazprom does not plan to increase transit over 109 million [cubic meters] per day provided by the existing contract," Makogon wrote on Facebook.
"The conclusion is obvious: the blackmail of Europe continues with the purpose of getting Nord Stream 2 certified as soon as possible," he said.
According to Makogon, the lack of gas exports through Ukraine despite high prices and existing pipeline capacity shows that Moscow isn't serious about its promises to increase supply to the European Union.
Throughout the autumn and winter, officials in the EU have accused Moscow of playing politics with the supply of gas as a way to force through the certification of the controversial Nord Stream 2 pipeline. Moscow has denied these allegations, noting that Gazprom continues to fulfill its contracts. While some believe the reduction in supplies to the rest of Europe is intentional, experts have noted that the drop may be due to Russia prioritizing its storage during the freezing winter months.
Gazprom has not booked additional gas transit capacity through Ukraine in the last four months, but has fulfilled its obligations for 2021 in full. In December 2019, Moscow and Kiev agreed to extend gas transit through Ukraine until 2024, with the possibility of extending the agreement for another ten years.
Earlier this month, Makogon suggested that Russia could completely stop all gas transit through Ukrainian territory as early as this winter.
"This is a political issue, not an economic one. We can see that pressure on Ukraine has intensified in recent months on all fronts," he said. "This includes stopping the export of thermal coal to Ukraine from Russia, the deployment of troops to the border, and the blocking of coal exports from Kazakhstan. Given all these developments, it is not ruled out that gas transit through Ukraine will also be stopped."
You can share this story on social media: