Russia confirms first cases of Omicron variant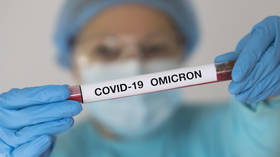 Russia has officially registered its first two cases of the new Omicron coronavirus strain, after several passengers who traveled from South Africa tested positive, the country's health watchdog confirmed on Monday.
On Monday, Rospotrebnadzor's press service said that the tests taken by the two patients on their first day in observation verified it was the strain after carrying out "full-genome sequencing."
The health watchdog also revealed that 10 Russians who had arrived from South Africa had tested positive for Covid, with the strains still to be determined.
A private flight organized by a fitness company carrying 25 Russians from South Africa arrived in Moscow on Friday, with tickets reportedly being sold for around $17,000 for a seat. However, the firm's boss refused to say how many had parted with their money to get home, as countries across the world closed their borders in response to warnings over the new variant.
Two of the passengers on the plane tested positive for Covid-19, were placed in quarantine on arrival and were hospitalized. Everyone who was on board the jet has been ordered to remain in isolation for two weeks.
Omicron was first detected by scientists in South Africa last month and has since been shown to be causing infections across the globe. A number of researchers have expressed fears over the mutant strain due to the 32 mutations in its spike protein, which is the segment targeted by most immune cells after infection or vaccination. Dr Tom Peacock, a virologist at Imperial College London, said that this new strain "could be of real concern."
However, Anatoly Altshtein, an expert at the Gamaleya Research Institute of Epidemiology and Microbiology, which developed Russia's Sputnik V jab, offered an opposing view last week. According to him, the variant's high number of mutations means the virus likely has an unstable genome, meaning it becomes "less dangerous" and "an overwhelming number of mutations leads to a weakening of the virus's ability to cause disease."
You can share this story on social media: