EU must choose between Ukraine or Russian gas - UK PM Johnson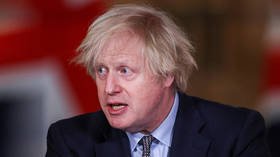 The nations of Western Europe will soon have to decide whether they want to buy cheap Russian gas, or defend Ukraine against Moscow, British Prime Minister Boris Johnson has claimed as tensions mount in the east of the continent.
Speaking at the Lord Mayor's Banquet on Monday, Johnson remarked "we hope that our friends may recognize that a choice is shortly coming between mainlining ever more Russian hydrocarbons in giant new pipelines and sticking up for Ukraine and championing the cause of peace and stability." The UK and much of the EU has faced a worsening gas crisis in recent weeks, with prices shooting up by as much as 250% in some places.
Johnson also weighed in on the humanitarian crisis hitting the continent's east, claiming Downing Street had been "quick to respond" when the UK's "Polish friends" asked for help with the situation on their border with Belarus, which has seen a sharp spike in refugees attempting to cross into the EU illegally. Britain has deployed a contingent of engineers to help reinforce the border fence.
The prime minister went on to blast embattled Belarusian leader Alexander Lukashenko, alleging he is behind an "abhorrent" attempt to use desperate people to undermine European unity.
Johnson's comments come shortly after US Secretary of State Antony Blinken claimed that Minsk's actions amid the worsening situation between Belarus and its neighbors, Poland and Lithuania, turn the attention away "from Russia's activities on the border with Ukraine."
READ MORE: Belarus border crisis is a 'distraction,' US claims
The senior diplomat's remarks coincided with a delivery of 80 tons of ammunition gifted by Washington to Kiev on Sunday, which was praised by the local US embassy as showing the White House's "commitment to the success of a stable, democratic and free Ukraine."
Last week, Moscow issued a warning to American diplomats, advising against a new scheme to give its neighbor deadly weapons under the 'Strategic Partnership Document'. Russian Ambassador to the US Anatoly Antonov said that the plans to strengthen defense ties will "only worsen the situation in southeastern Ukraine."
READ MORE: Russia issues warning to US over Ukraine
Reports of a build-up of Russian troops began to spawn across Western media outlets at the end of October. The coverage, however, received condemnation from Kiev, with Alexey Danilov, the chair of Ukraine's national security council, slamming it as "intentional disinformation of our entire society."
Russian officials have also insisted there are no plans to launch an offensive in the country and plunge the continent into war. Kremlin Spokesman Dmitry Peskov dubbed the reports of Moscow's purported military build-up on Ukraine's border to be "cheap fake news."
Like this story? Share it with a friend!
You can share this story on social media: