Ukraine gives its view on alleged Russian military buildup near border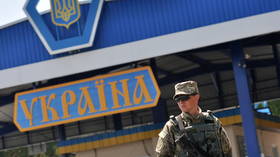 Ukraine's State Border Service has rejected claims that Russia's military is gathering near the two countries' shared border, after NATO's Secretary-General said there was a "large and unusual" build-up of forces at the frontier.
Speaking to the Ukraine-24 TV channel on Monday, border service spokesman Andrey Demchenko revealed that Kiev does not have reason to believe Russian troops are accumulating nearby.
"We do not register any movement of equipment or military of our neighboring country near the border," he explained. "If any actions are taking place, it may be dozens or even hundreds of kilometres from the state border."
Demchenko's comments directly contradict a claim from NATO head Jens Stoltenberg, made earlier that day.
"We see an unusual concentration of troops, and we know that Russia has been willing to use these types of military capabilities before to conduct aggressive actions against Ukraine," he said.
Last week, American business outlet Bloomberg reported that US officials warned their European counterparts that Moscow may be planning an invasion of Ukraine, noting that their concerns were backed by "publicly available evidence."
The suggestion of an invasion was quickly slammed by Kremlin spokesman Dmitry Peskov as groundless.
"This is not the first publication and not the first statement by the US that they are concerned about the movement of our armed forces in Russia," he said. "We have repeatedly said that the movement of our armed forces on our own territory should be of no concern to anyone. Russia poses no threat to anyone."
Like this story? Share it with a friend!
You can share this story on social media: