Germany suspends Nord Stream 2 certification process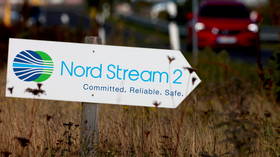 The certification of the controversial Nord Stream 2 gas pipeline connecting Russia and Germany will be paused until the company behind it reorganizes in accordance with German law, the country's regulator announced on Tuesday.
The news immediately led to a sharp rise in the price of gas in Europe, with futures in Europe increasing by more than 10%, to $1,029 per 1,000 cubic meters, according to data from the Intercontinental Exchange.
The standoff concerns an insistence from the German Federal Network Agency (BNetzA) that the operator of the pipeline must only be registered as a German entity, while the Nord Stream 2 AG company is based in Switzerland.
It has opted to establish a subsidiary in Germany to oversee the part of the pipeline that goes through the country, but the regulator says that most assets should be transferred to that firm.
The certification will resume only after this transfer is completed and the German subsidiary files a new application, BNetzA said. It will then be studied during the remaining part of the four-month-long approval period.
Nord Stream 2 AG applied for certification of the pipeline this June, but the German regulator deemed that it had received all the required papers only in early September. That's when the four-month certification process started, meaning that the draft decision might not be published by BNetzA before January 2022.
The approval process was further complicated after Poland and Ukraine – both strongly opposed to the project – were given the right to participate in it. However, they can only issue their judgement on the project, and lack veto powers to block it.
The construction of the underwater pipeline, which was carried out despite strong opposition from the US, was completed in September, and it was later filled with gas.
Russia's energy giant Gazprom said earlier this month that deliveries to customers in Germany and elsewhere in the EU may start as soon as it's given the green light by BNetzA.
Think your friends would be interested? Share this story!
You can share this story on social media: