Putin offers Merkel plan to solve Belarus border migrant crisis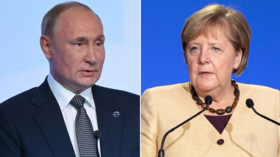 The EU should restore contact with Minsk to resolve the migrant stand-off on the Belarusian-Polish border, Russian President Vladimir Putin told German Chancellor Angela Merkel on Thursday, as they spoke about the crisis by phone.
Putin insisted that the bloc should work in accordance with "international humanitarian law." This is the second time the Russian president and the outgoing German chancellor have communicated directly in the past two days.
In the latest exchange, Putin described the situation at the EU's external border as an "acute migration crisis," and called on the bloc to restore relations with Minsk "in order to solve the problem," a statement published on the Kremlin's website said. Brussels had severed the ties with Belarus after last year's controversial presidential election, and the bloc's members have feted former candidate Svetlana Tikhanovskaya.
The crisis hit the headlines in August this year, when hundreds of refugees – coming mostly from countries like Iraq, Syria, Iran and Afghanistan – attempted to cross over from Belarusian territory into Poland, an EU member state. The situation came to a head in October, and as many as 4,000 would-be asylum seekers are currently trying to force their way across the frontier, while thousands more are reportedly expected to arrive at the border.
The EU is accusing Belarus of weaponizing the refugees in its conflict with the West, with Poland's prime minister even dubbing it a "hybrid war" waged by Minsk. Belarus, in turn, insists it no longer has the resources to effectively manage migrant flows due to sweeping sanctions the EU had slapped on the country.
Amnesty International and some other humanitarian groups have accused Warsaw of denying the stranded people basic human rights and of violating the EU's own laws on migration. For weeks, an unknown number of refugees, among them children and pregnant women, have been living in tents with no running water, in sub-freezing temperatures. To date, at least 10 people have lost their lives at or in the vicinity of the Polish-Belarusian border.
The two heads of state also touched on the latest escalation in Eastern Ukraine, with Putin pointing to Kiev's "destructive policies." The Russian president went on to say that Ukraine was "increasingly counting on the use of its military force, including combat drones, which are explicitly banned under the Minsk Peace Agreement."
Think your friends would be interested? Share this story!
You can share this story on social media: