Russia will cut gas supplies to Moldova unless $700 million debt is paid & new contract signed before December 1 – Gazprom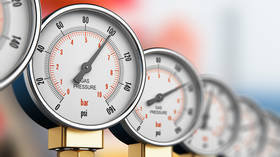 After failed attempts to renew a long-term contract for gas from Russia to Moldova, which is suffering from shortages, Gazprom has announced that deliveries could be stopped by December unless Chisinau pays its outstanding debts.
The Russian energy giant insisted, on Saturday, that Moldova's government has created the gas supply crisis the country now finds itself in, and that the country's total liabilities are currently $709 million.
Gazprom added that the situation has nothing to do with politics and that the company is simply unwilling to provide its product at a loss. Western media outlets have claimed that Russia is somehow "punishing" Moldovans for electing a pro-Western government, earlier this year, following a bitter election campaign.
Moldova declared a state of emergency over the shortage of natural gas on Friday. The crisis unfolded amid record-high spot prices and after a 2008 contract with Russia's Gazprom expired in September. Authorities in Chisinau had left it until almost the last minute to negotiate a new deal.
Also on rt.com
Moldova on verge of declaring STATE OF EMERGENCY over gas shortages, officials say, as talks with Russia to secure supplies stall
Deliveries have been continued as a stop-gap measure throughout October, but the sides have failed to agree on terms for a long-term renewal. Moscow business daily Kommersant reported, this weekend, that the Saint Petersburg-based firm was offering the Moldovans a 25% discount on the present market rate, but that Chisinau was seeking 50%.
Earlier on Saturday, Moldovan Vice Prime Minister Andrei Spinu, who led his country's delegation to Russia, reported a lack of progress in negotiations. The Russian side required "financial and non-financial conditions, including the settlement of the historic debt," he said in a Facebook post, claiming that the resulting cost of the case was "higher than the offers on the international gas markets."
Responding to the claims, Gazprom said that while Moldova's authorities might not like the price for Russian gas, the nature of the pricing is clear and transparent. The company added that the signing of a new deal is only possible if Moldova deals with its debt.
Also on rt.com
European businesses run risk of shutting down due to rising gas prices, EC president warns
On the bright side, Spinu said, Gazprom agreed to boost daily deliveries to Moldova by 5 million cubic meters throughout the rest of October, somewhat alleviating the dire situation in the country.
Moldovan Prime Minister Natalia Gavrilita earlier told the parliament that only 67% of the country's needs for gas in October were covered, and that an extra 16 million cubic meters were necessary to meet the deficit. A continued shortage may pose a threat to the state's energy infrastructure, she warned.
Think your friends would be interested? Share this story!