Russia is NOT manipulating gas market to drive up costs, European Commission says in response to claims Moscow plotted price rise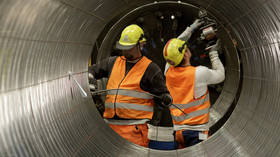 There is no evidence that Russian state energy giant Gazprom is attempting to squeeze Western Europe's fuel supplies, the European Commission has said, amid a sharp rise in prices and fears of shortages in the lead-up to winter.
Speaking to Bulgarian broadcaster bTV on Friday, Frans Timmermans, the Commission's deputy head, said, "Russia is fulfilling its gas supply contracts." He added that "we have no reason to believe it is putting pressure on the market or manipulating it."
However, Timmermans went on to say that "the demand for gas at the global level is huge, including there." Some parts of Western Europe have seen prices skyrocket by as much as 250% in recent weeks, with reserves running low and rising bills hitting businesses and consumers.
Also on rt.com
Soaring gas prices in Western Europe down to mistaken reliance on wind farms, Russia on track for record exports in 2021 – Putin
Last month, US Energy Secretary Jennifer Granholm said the EU would have to "stand up when there are players who may be manipulating supply in order to benefit themselves," suggesting the crisis could be down to "manipulation." A number of analysts have since blamed Russia for not ramping up output in response to growing demand.
The Kremlin, however, has insisted Gazprom is meeting all of its existing orders, and is taking steps to ensure it can increase the volumes of gas reaching Western Europe if new contracts are agreed.
Speaking earlier this week, Russian President Vladimir Putin blamed the rise in prices on falling electricity output from wind farms, which make up a growing share of the EU's energy generation. He blasted claims Russia is 'weaponizing' energy supplies as "complete nonsense" and claimed that "proper analysis of the situation is often replaced by empty political slogans."
Also on rt.com
Russia could offer extra gas to Western Europe as consumers see energy bills skyrocket amid squeeze on supplies, Kremlin reveals
"If they ask us to increase further, we are ready to increase further. We will increase by as much as our partners ask us," Putin added. "There is no refusal, none."
Putin's spokesman, Dmitry Peskov, has previously said Russia stands ready to pump more gas across the continent, but boosting output takes time. "Underground storage facilities can't just be pumped out in a few days by simply opening a valve," he said. "There are technological limits."
Like this story? Share it with a friend!
You can share this story on social media: