Russian teacher 'fired' from school over 18+ sex blog gets backing from top MP ahead of inquiry into claims of unfair dismissal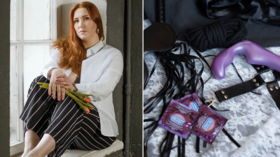 The Russian parliament will open an investigation into the case of a St. Petersburg teacher who ran a public blog dealing with issues like sexual health and relationships, after she was let go from her job by education bosses.
On Friday, the speaker of the State Duma, Vyacheslav Volodin, ordered a probe into the case of biology teacher Olga Shchegoleva, who was forced to resign last week. Volodin instructed the chair of the parliamentary Education Committee to "look into the situation and then report back to us."
Shchegoleva began the Instagram blog 'Body Language' in February last year, and has since made a series of posts dealing with issues like menstruation, sexually-transmitted diseases, and pornography. On her website, the former teacher says she was inspired to start the project after encountering parents embarrassed to talk to their children about sexual wellbeing. "The idea is to teach parents a way to build a trust-based dialogue and convey the right information," she wrote, and has claimed that adults understanding sex "helps prevent violence."
Also on rt.com
Flurry of complaints over lesbian writer sees organizers scrap Russian literary festival amid outrage from anti-LGBT+ activists
In an interview with St. Petersburg's Fontanka newspaper published last week, she denied allegations that she had been promoting 'inappropriate' material to minors, saying that the account was listed as 18+ only. "I have done everything that is required of me by law to protect children from potentially traumatic information," the educator insisted, "using every tool Instagram offers me."
Shchegoleva says she was forced out of her role at the Rimsky-Korsakov Conservatory, a musical school for specially gifted children, after it ruled "it is not appropriate for a teacher to be engaged in this kind of activity." According to her, school administrators told her to delete her blog or face dismissal, and she was told to hand in her notice when she refused. The conservatory confirms Shchegoleva has left the post, but insists the decision was made "of her own free will."
The leader of the far-right LDPR party, Vladimir Zhirinovsky, spoke out in support of the teacher during the meeting chaired by Volodin on Thursday. He insisted that the blog was "not shameful" and instead "raises questions that teachers should be raising." He went on to argue that the response from the education bosses was "some kind of obscurantism – like something from the Middle Ages," and insisted that she be reinstated.
The 'Body Language' account has since been made private, with Shchegoleva saying she has been targeted by bot attacks and faced a slew of complaints that saw her fall foul of Instagram's automated reporting function. "I wrote to Instagram and told them that I was being cyber-bullied, and asked them to help me ensure complaints didn't kill my posts because there really were no grounds for them to do so," she said.
Sex education is largely a taboo subject in Russia, which has no standard curriculum for the subject in schools. Commentators and academics have warned that the lack of education on the issue leaves young adults with a limited understanding of how to stay safe and avoid unwanted pregnancies, with people taking tips from films, TV, and pornography instead of educators. In 2013, lawmakers backed the introduction of sex education classes, but the directive has not yet been implemented.
Online news site Znak conducted a series of 25 interviews with citizens in the Ural region city of Ekaterinburg earlier this week in the wake of the row over Shchegoleva. Around half of those interviewed were critical of the idea of anyone other than parents talking to minors about sex. "This is insane," one respondent said, "Why teach this? Do not corrupt children!" However, others argued that sex education was vital "because no one tells children how to properly protect themselves."
Like this story? Share it with a friend!
You can share this story on social media: