Afghanistan risks becoming hotbed of terrorism & potential new threat to former Soviet Republics after US withdrawal, Putin warns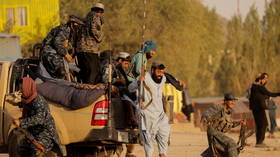 Terrorists from Iraq and Syria are increasingly on the move to Afghanistan following the takeover of the country by the Taliban, potentially posing a threat to the whole of Central Asia, Russian President Vladimir Putin has said.
On Wednesday, ahead of a meeting of heads of states of the Commonwealth of Independent States (CIS), made up of former Soviet nations, Putin announced that concerns around the growing presence of terrorists in the region will be discussed. This, he said, will concentrate on how to avoid destabilization in neighboring countries.
The summit, which is taking place on Thursday, brings together leaders from nine separate nations, including Uzbekistan and Tajikistan, which border the troubled nation.
Also on rt.com
Putin warns terrorists & Taliban fighters 'disguised as refugees' could be flowing out of Afghanistan amid chaos of US withdrawal
"The situation in Afghanistan is not easy, you know that very well," the Russian president told a meeting of CIS security agency heads in advance of the main session. "At the same time, a number of international terrorist groups from ISIS [a banned terrorist organization in Russia] continue to operate in the country. From Iraq, Syria, militants with experience in military operations are actively being drawn there."
The head of state also expressed his concerns around what the influx of terrorists could mean for countries that share a frontier with Afghanistan. "It is possible that terrorists may try to destabilize the situation in neighboring states, including the CIS countries, right up to directly trying to expand," Putin added.
This is not the first time that the president has argued that the Taliban taking over Afghanistan could pose a serious threat to countries surrounding the Central Asian nation, including Russia itself. In August, Putin pointed out that the number of refugees fleeing the Islamic militant group could create challenges for countries internationally. "Who are these refugees? How can we tell? There may be thousands, or even millions," he said. "The border is a thousand kilometers – they will get on everything, a car, even a donkey, and flee across the steppe."
Also on rt.com
US & NATO deliberately trying to 'heat up' crisis in Afghanistan after chaotic exit sparked sharp rise in refugees, Russia claims
Putin added that the exodus of Afghans "is a direct concern for our citizens… We do not want fighters disguised as refugees to turn up in our country." Referring to the terrorist attacks driven by separatism in majority-Muslim regions in the country's south, such as Chechnya, two decades ago, the president said that "we do not want to repeat what happened in the 90s and mid-2000s...we had these horrors that are now being repeated on the territory of Afghanistan."
Russia is set to host a meeting with representatives of the Taliban, as well as diplomats from Beijing, next week. Although the Islamist militant group is listed as a banned terrorist organization in Russia, its political envoys have been allowed to fly in for talks in an effort to calm the fractious region.
Like this story? Share it with a friend!
You can share this story on social media: