Russian soldier killed in road blast in Syria's Homs province – Defense Ministry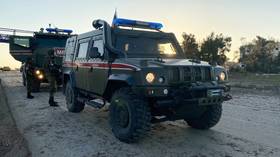 A Russian serviceman has been killed after his armored vehicle was hit by an improvised explosive device in Syria's Homs province, the Russian Defense Ministry said on Thursday.
"The Russian military police were reconnoitering a path of a humanitarian convoy in Syria's Homs province on September 9 when there was a roadside bomb explosion," the ministry said in a statement.
At least one Russian soldier died in the incident, the ministry said. The soldier was inside the vehicle when it was hit by the blast. He received "severe injuries" and later succumbed to his wounds despite a timely medical intervention.
The incident took place just a day after seven Syrian soldiers were killed in a similar roadside bomb blast in Syria's southern Deraa province. Earlier, the Syrian Army entered the last militant stronghold in Syria's south – the city of Deraa-al-Bayad. Some local militants refused to lay down arms and broke a deal with Damascus that would allow them to leave the area, according to media reports.
Also on rt.com
Syrian air defenses shot down 21 of 24 Israeli missiles fired in latest raid on Damascus, Russian military says
Russia launched its anti-terrorist operation at the request of the Syrian government, back in 2015. The nation has been engaged in a violent conflict since 2011 that saw Damascus pitted against terrorist organizations, including Islamic State (IS, former ISIS) and Al Qaeda, as well as various militant groups.
Moscow declared that Islamic State was defeated in Syria back in 2017. Since then, Russia has gradually withdrawn its troops. Russia's military police still remain on the ground where they scout out the paths for humanitarian convoys and patrol several routes, including on the line of contact in the northern Idlib province, which borders Turkey. The province is still partially controlled by Islamic militant groups opposed to the Syrian government of President Bashar Assad.
Think your friends would be interested? Share this story!
You can share this story on social media: