Controversial Ukrainian Interior Minister Avakov resigns after seven years in role, facing claims of corruption & far-right links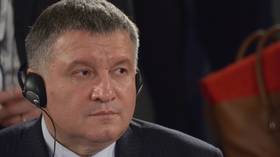 One of Kiev's most long-standing and notorious political titans, veteran Interior Minister Arsen Avakov, announced on Tuesday afternoon that he will stand down from the job of overseeing Ukraine's domestic security and policing.
In a statement published on the Interior Ministry's Facebook page, Avakov wrote that he had "submitted a letter of resignation" from the post and thanked officials in the department "for the years of joint work. Thanks to every officer, private and employee. The honor has been mine," he added.
Avakov had been the longest-serving minister in the government, having first been appointed in 2014 after the country's Maidan, and outlasted former president Petro Poroshenko. He was widely seen as one of the most influential and best-connected political figures in Ukraine.
Also on rt.com
Writer Nikolay Gogol, born in what is modern-day Ukraine, has been stolen by Russia through propaganda, says Minister in Kiev
In recent months, the long-standing minister has been dogged by criticism from the opposition over what they deemed to be the slow pace of law enforcement reform, including the prosecution of those said to be involved in killings during the 2014 violence. Five years after the bloody clashes, which left at least 100 pro-Maidan activists dead, 36 officers suspected of involvement in crimes were still said to be working in the force.
In addition, Avakov's son, Oleksander, became embroiled in a row over alleged corruption, along with the country's former deputy interior minister over claims of dodgy dealing as part of the award of a state contract worth more than half-a-million dollars. However, the case was dropped by prosecutors in 2018 over what officials said was a "lack of evidence."
Avakov has also come under fire in the West for his perceived close links with the far-right Azov Batallion, an ultranationalist paramilitary force that have consistently displayed Nazi iconography and been linked to extreme violence. There have been numerous calls in the US and other nations to ban the group as an extremist organization.
Last year, the Ukrainian parliament's Committee on Law Enforcement Affairs proposed to consider Avakov's dismissal, with the committee unanimously backing the resolution. However, President Volodymyr Zelensky opposed the calls, saying that "there is still no better minister," and that Avakov was a "wonderful" person to have in government.
Think your friends would be interested? Share this story!
You can share this story on social media: