'Outside interference' in Cuban affairs is 'unacceptable' & foreign nations should let Havana solve its own issues, Moscow warns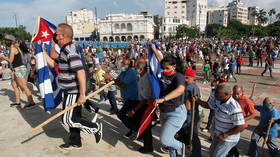 Any foreign interference in the affairs of Cuba is completely unacceptable, Russia has declared, after the Caribbean country erupted in protest over an ever-worsening economy and the government's handling of the Covid-19 pandemic.
In a comment published on its website, Russia's Ministry of Foreign Affairs spokeswoman Maria Zakharova noted that Moscow is "closely following the development of the situation in and around Cuba."
"We consider outside interference in the internal affairs of a sovereign state, and any other destructive actions that would encourage destabilization of the situation on the island, to be unacceptable," Zakharova said.
Thousands of Cubans have taken to the streets in cities around the country to participate in protests against the government, with many complaining about shortages of food and medicine, amidst a worsening economy. There have also been complaints about the government's handling of the situation around Covid-19.
According to Cuban President Miguel Díaz-Canel, those marching are "counter-revolutionaries," with others in the administration blaming the US for being behind the protests. Díaz-Canel called on the defenders of the Cuban Revolution to take to the streets.
Speaking to Moscow daily Izvestia, Zbigniew Ivanovsky, the head of the Political Research Center at the Latin America Institute of the Russian Academy of Sciences, explained that the situation on the island has noticeably deteriorated in recent times.
"First of all, this is due to the fact that painful economic reforms are continuing," Ivanovsky explained. "The circulation of the dollar is prohibited, and this is the main means of survival on the island."
The Covid-19 pandemic has also dramatically affected the Caribbean country, with restrictions implemented due to the virus having virtually killed off all tourism, a vital source of income.
Also on rt.com
Is Joe Biden playing electoral politics by doubling-down on Trump's attacks on Cuba's vital medical missions to poor countries?
Last week, the Russian foreign ministry specifically mentioned the US' treatment of Cuba, in a report about human rights violations around the world.
In the lengthy report, published on Thursday, Moscow accuses Washington of "continuing to grossly violate human rights both inside and outside the country," including through illegal, unilateral measures like sanctions.
"The most egregious example is the embargo imposed on Cuba, that continues despite numerous UN General Assembly resolutions," the report said.
The blockade of Cuba, which has been ongoing since the late 1950s, is the most enduring trade embargo in modern history.
If you like this story, share it with a friend!
You can share this story on social media: