Is Joe Biden playing electoral politics by doubling-down on Trump's attacks on Cuba's vital medical missions to poor countries?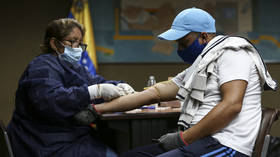 Washington erroneously claims Cuba's missions use 'forced labour' and wants to stop them. But this flawed move is more about Democrats winning back the votes of Cuban-Americans in Florida, rather than any human rights.
During the 2020 campaign, Biden pledged to "reverse" Trump's "failed" Cuba policies. Upon taking office, Biden immediately reversed numerous Trump policies, but he's played it close to the vest on Cuba - until now.
For the 29th consecutive year, the United Nations General Assembly last month voted overwhelmingly in favor of a resolution condemning America's embargo on Cuba. Before the June 23 vote, many diplomats urged the US to abandon history's longest-running embargo.
The Obama administration abstained in 2016, but the Trump administration, like previous ones, opposed the resolution each year. In the Biden administration's first vote, it decided to continue Trump's policy by voting against the resolution, which passed 184-2.
Cuban medical missions - through which roughly 50,000 Cuban doctors and medical personnel work in over 60 countries - were a bugaboo for the Bush and Trump administrations, both of which showed Florida voters their anti-Castro credentials by taking measures to undermine them.
Now Biden's State Department takes aim at Cuba's medical missions in its newly-released "2021 Trafficking in Persons Report," which accuses the missions of using "forced labor". The report puts Cuba in Tier 3 - the worst tier - lumping it in with Iran, North Korea, South Sudan, and Syria.
Also on rt.com
Cuba's president blames Washington for protests, says US sanctions responsible for shortages and 'social unrest'
Cuban-American CNN host Andres Oppenheimer recently commended Biden's action, but also recognized the move's clear electoral calculations, saying his administration "may have learned from its 2020 campaign mistake of underestimating Cuban-American voters' strong feelings against Cuba's six-decade dictatorship. In part, because of that mistake, the Democrats lost Florida and two key Miami seats in the House."
Cuba's medical missions emphasize the preventive primary care so many people in poor countries lack. At the 2009 Summit of the Americas meeting in Trinidad, President Obama said:
[i]n very specific terms [I] was hearing from these leaders… about the thousands of doctors from Cuba that are dispersed all throughout the region, and upon which many of these countries heavily depend.
Indiana State University Political Science professor Michael Erisman explains:
Cuban brigades almost invariably operate where the most rudimentary medical services have long been essentially non-existent and they do so at no cost whatsoever to the recipients…
While Cuba provides medical services to about two dozen countries free of charge, its missions earn an estimated $7 billion a year in hard currency.
The report condemns Cuba for "capitaliz[ing] on the pandemic by increasing the number and size of medical missions." However, longtime Antigua and Barbuda diplomat Ronald Sanders strongly believes Cuban personnel have "made a huge and beneficial difference…to manage COVID-19 and its spread… without them… the medical systems of several Caribbean countries would have collapsed."
The Biden administration accuses Cuba of giving medical workers "only a portion" of what host countries pay for their services. But Cuba provided them an expensive medical education free of charge - it's not unreasonable to seek to recoup part of that investment.
The US has sought to entice Cuban medical personnel abroad, particularly doctors, to defect or otherwise move to the US - what Erisman calls "brain drain politics." The report criticizes Cuba for withholding doctors' passports, but Cuba does this because there is a huge economic incentive to defect. While American doctors graduate medical school with an average debt of $250,000, Cuban defectors arrive free of any obligations, and can trade Cuba's third world, no-frills living standards - the hardships that are driving the current protests there - for a comfortable middle-class American life.
The US military's Health Professions Scholarship Program pays medical students' tuition and most other education-related expenses. In exchange, doctors generally owe four years of active duty service. Is this "forced labor"? American taxpayers wouldn't be OK with these doctors skipping out, and Cubans feel similarly.
Also on rt.com
'Freedom, food, vaccines!' Mass protests in Cuba backed by US officials as president urges supporters to defy 'foreign meddling'
The report concedes "some participants…stat[e] the postings are voluntary." Cubans on medical missions can earn hard currency, giving them and their families access to consumer items generally unavailable in Cuba.
Havana-based British journalist Ed Augustin says, "In seven years of conversing with medics in Cuba, I've never met a doctor or a nurse who said they were forced to work abroad. Waiting lists are oversubscribed."
Since 1998, Latin American Studies professor John Kirk, of Dalhousie University, has interviewed 270 doctors, nurses and technicians and stayed with them on missions.He asserts that critical claims about the programs are exaggerated, explaining:
One thing the doctors always said to me is how they can earn more than in Cuba. Another motivation mentioned was the experience they gained in some of these places, which they described as a living medical textbook. They go to places others won't go… in Brazil [Cubans] brought healthcare to [Amazon] indigenous populations… that had never seen doctors before.
Gaston Browne, the prime minister of Antigua and Barbuda, is also clear:
… for over 30 years we have been utilizing Cuban specialists… to suggest… employing the services of Cuban professionals is a form of forced labor and therefore human trafficking, that is not true, we do not accept it.
Cuba leads the world in exporting medical services. The US leads the world in exporting weapons. Cuba's medical exports are not the problem: Trump's - and now Biden's - Cuba policy is.
Like this story? Share it with a friend!
The statements, views and opinions expressed in this column are solely those of the author and do not necessarily represent those of RT.
You can share this story on social media: