Aircraft with 28 people on board crashes near sea in bad weather conditions on remote Russian Far Eastern peninsula of Kamchatka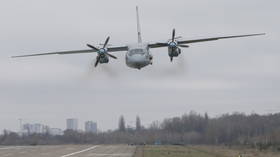 Russian authorities are investigating after an Antonov An-26 turboprop aircraft, flying over the remote Kamchatka peninsula in Russia's Far East, crashed near the sea of Okhotsk on Tuesday afternoon. It had 28 people on board.
The scheduled flight, from regional capital Petropavlovsk-Kamchatsky to the town of Palana, over 700km away, was conducted by Kamchatka Aviation Enterprise, a small local carrier, serving routes to isolated airports, using a handful of Soviet and Czech-made planes from the communist era.
Officials are investigating whether the plane's disappearance was the result of safety rules violations or bad weather conditions. The Federal Air Transport Agency told Moscow daily RBK that heavy clouds and fog were reported around the area.
Local investigators say they are currently "looking for details" about the aircraft's exact whereabouts, according to the press service of the Main Directorate of the Russian Emergencies Ministry for the Kamchatka territory. It's believed that there are 22 passengers missing, including at least one child and six crew members.
Kamchatka is nine hours ahead of the capital. The region is bigger than Ukraine or France, and is home to just over 300,000 people. Featuring 16 active volcanoes, it's surrounded by the Pacific Ocean on one side, and the Sea of Okhotsk on the other.
A fleet of ships are involved in search operations near Palana, which is on the peninsula's west coast. Contact was lost with the aircraft just 9km from the town's airport.
The An-26 is a twin-engined turboprop designed in the Soviet Union in the 1960s. It entered service in 1970 and production halted in 1986. Hundreds remain in use, primarily by military operators.
You can share this story on social media: