Pioneering filmmaker Kim Ki-duk, who brought South Korean cinema to the world, dies from Covid-19 in Latvia at age 59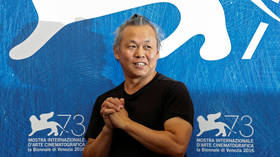 Renowned South Korean filmmaker Kim Ki-duk - the winner of awards at the Berlin, Cannes and Venice film festivals, in breakthroughs for Korean cinema- has died at 59 from Covid-19 complications developed while visiting Latvia.
Kim's family confirmed to South Korean media that the director's death occurred on Friday.
The celebrated art-house figure had reportedly arrived in Latvia to buy a house in the Baltic country, but later failed to show up for a scheduled meeting, Latvian news website Delfi said.
Russian documentary film director Vitaly Mansky told Delfi that Kim had died as a result of Covid-19 complications at 1:20am local time.
Also on rt.com
Lockdown-skeptic South Dakota governor uses SCOREBOARD to show Covid cases 'still climbing' in states that shut down
Kim was the only South Korean director to win awards at all three major European film festivals: Cannes, Venice, and Berlin.
His film 'Pieta', a drama about a debt collector, earned him a Golden Lion in Venice in 2012.
Think your friends would be interested? Share this story!