Russia's naval reach extends with new African base: Putin signs off on building Red Sea hub in strategically vital Sudan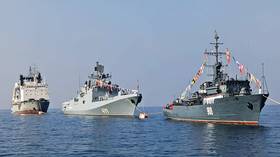 President Vladimir Putin has approved the setting up of a Russian Navy logistics hub on the Red Sea, lying between Africa and Asia, tasking the Ministry of Defence with signing a previously discussed agreement with Sudan.
The proposal to establish a facility in the North-African country, for which Putin gave the green light on Monday, was brought forward by the Russian government last week.
Moscow and Khartoum signed a seven-year-long military cooperation deal last year and the prospect of a naval logistics hub has been already discussed by the sides in detail.

Also on rt.com
Russia inks draft deal to open naval base for nuclear-powered ships in Sudan, in exchange for military cooperation with Khartoum
The Sudanese facility is intended to station and repair Russian ships as well as to store supplies essential for the vessels during their lengthy missions. It will be staffed with up to 300 service personnel, and will be able to host up to four warships simultaneously, including those with nuclear propulsion systems.
The draft deal is designed to last for 25 years. It will then be automatically prolonged for ten-year periods if needed.
The Russian government has already said that the logistics hub in Sudan will contribute to peace and stability in the region, stressing that it will be purely of a defensive nature. According to media reports, it will be located in the curtilage of the city of Port Sudan, the country's main port.
Also on rt.com
Open for business: Syria renting port of Tartus to Russia for 49 years
The Sudanese facility will likely be similar in function to the one currently operated by Russia in Tartus, on the Mediterranean coast of Syria.
Like this story? Share it with a friend!
You can share this story on social media: