Russian opposition figure Navalny discharged from Berlin hospital, doctors believe 'full recovery' from alleged poisoning possible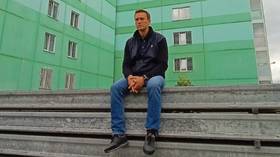 Alexey Navalny, a leading Russian opposition figure and anti-corruption campaigner, has been discharged from Berlin's Charité hospital as his condition continues to improve. The surprise announcement came on Wednesday morning.
Navalny, also one of the main organisers of the Moscow protest movement, was airlifted to Germany last month after he fell ill on a flight from Siberia to Moscow. German authorities later alleged he had been poisoned with a lethal version of Novichok, a substance originally formulated in the Soviet Union back in the 1970s.
Also on rt.com
Latest Navalny Novichok water bottle poisoning claim stretches all credibility, but Western media swallows it without question
Navalny's condition has "improved sufficiently" for him to be moved out of acute in-patient care, the Charité clinic revealed, adding that doctors believe that "complete recovery is possible."
"However, it remains too early to gauge the potential long-term effects of his severe poisoning," the statement further cautioned, while clarifying that "the decision to make details of Navalny's condition public was made in consultation with the patient and his wife."
Navalny was removed from a medically induced coma and taken off a ventilator earlier this month. He soon resumed posting on social media and sharing photos of himself in the clinic. In Russia, he is a popular internet personality, with millions of followers. He is also one of the top YouTube stars in the country, with his channel focused mainly on politics and corruption.
Also on rt.com
Russian opposition figure Navalny posts photo of himself walking down stairs, says he expects full recovery from alleged poisoning
Navalny's health ordeal began on August 20, when he suffered a medical emergency on a commercial flight from Tomsk to Moscow. The pilot landed at Omsk, another Siberian city, and he was immediately hospitalized. Two days later, at his family's request, he was transported to Berlin.
Laboratories in three Western countries – France, Germany, and Sweden – claim he was poisoned with a substance from the Novichok group. It has been described by German officials as being even more lethal than previously known variants. Moscow denies this version of events, and insists the Russian doctors who first treated him in Siberia found nothing to indicate Novichok was involved.
You can share this story on social media: