Putin forced to delay key vote to reset presidential term limits due to Covid-19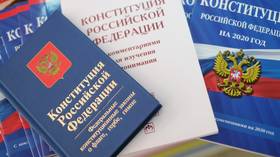 The planned national vote on constitutional amendments in Russia will be postponed from April to a later date, President Vladimir Putin said, citing the threat of Covid-19.
Speaking in a televised address on Wednesday, Putin announced a number of measures to support the Russian people as the country faces an increasingly serious threat from coronavirus.
The Russian government will delay the vote on the constitution, which was scheduled for April 22. The changes involve, among other things, empowering Russia's Upper House, creating a new government body – the State Council – and restricting all future presidents' time in office to two overall terms.
At the same time, the amendments also 'reset' the term count for the sitting president – if adopted, this will allow Putin to run again in 2024. The provision was introduced by MPs while they debated the amendments.
We will monitor how the situation unfolds in the regions and in the country as a whole and, based solely on professional opinion and the recommendations of medics and specialists, we will make a decision about the new voting date.
The president called on all Russians to take the situation seriously and follow the instructions of health officials and other authorities, as the wellbeing of many people, especially the elderly who are especially vulnerable to the disease, depends on it.
"All the measures that have been and will be taken will work, produce a result as long as we show solidarity, understanding of the difficulty of the current situation," Putin said. "If the state, the society, the citizens act together. If everyone does everything possible."
Russia has so far been largely spared by the Covid-19 pandemic. It currently has 658 cases of the disease, but that number jumped by 163 in one day, fueling concerns that a large increase in positive tests may happen within days.
Think your friends would be interested? Share this story!