2 dead after explosion during 'liquid-fueled engine' test at military site in Russia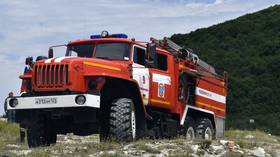 A blast has rocked a Russian Navy firing range during trials, the Ministry of Defense has said. At least two service members were killed in the explosion.
A "liquid-fueled jet engine" went off at the testing cite close to the city of Severodvinsk. The latter is home to a major base of the Russian Navy's Northern Fleet.
As well as the two "specialists" who succumbed to their injuries, six more people were injured and were being treated in hospital.
Radiation levels briefly increased then returned to normal, local authorities said; the military reported that no radioactive substances were released. Rescue services were, nonetheless, put on high alert. The type of device in question has not been disclosed, nor has a possible reason for the explosion been suggested.
Also on rt.com
WATCH jaw-dropping moment of 'nuke-like' explosion at Siberian ammo depot
The tragedy came just two days after an army ammunition depot was devastated in a powerful explosion in Siberia. That blast left one dead and led to a massive evacuation of nearby villages and towns.
Think your friends would be interested? Share this story!
You can share this story on social media: