Darwin Award wannabe? Russian man films himself shoving bear, gets bitten (VIDEO)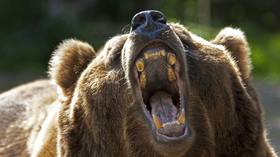 It's not clear how pestering a young bear that's minding its own business in the woods could be considered a good idea, but one Russian man filmed himself doing just that. The result? A really confused animal and a hurt hand.
The little misadventure, which reportedly happened in Kamchatka in Russia's Far East, was captured in a short video that surfaced online this week. Filmed by the bear-chaser himself, it shows a young brown bear barely bigger than a cub trying to walk away.
The cameraman walks after the beast and either kicks or shoves the animal. The bear is seen somewhat bewildered and takes a few seconds before growling and going after his attacker. Seconds later, the man picks up the phone and says in Russian: "It bit through my hand! It f**king attacked me!"
Duh! If a bitten hand is all he got for the stunt, he should consider himself lucky.
Think your friends would be interested? Share this story!
You can share this story on social media: