Su-35S jet wows crowds with 'physics-defying' stunts (VIDEO)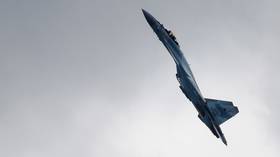 Visitors to the Army-2019 defense expo near Moscow were treated to a spectacular aerobatics show that demonstrated the extraordinary maneuverability of the Su-35S, one of Russia's most advanced air superiority fighter jets.
The aircraft features thrust-vectoring engines and improved propulsion and flight controls that allow it to perform unbelievable stunts in the air like the famous Pugachev's Cobra.
The Sukhoi Su-35S reached full operational capability just last year. It is a highly-upgraded variant of the Su-27 and serves as an interim air superiority aircraft pending mass introduction of the fifth-generation Su-57.
If you like this story, share it with a friend!
You can share this story on social media: