People jump from BURNING PLANE in terrifying VIDEO of Superjet-100 crash-landing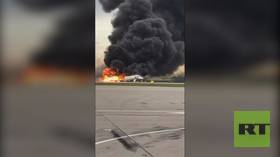 Shocking exclusive video footage shows terrified passengers leaping from the flaming Sukhoi Superjet 100 aircraft at Moscow's Sheremetyevo Airport, after the fiery crash-landing that took over 40 lives.
Aeroflot Flight SU1492 departed Moscow's Sheremetyevo International Airport on Sunday, bound for Murmansk. The plane quickly returned to Moscow after a fire broke out on board, and landed trailing smoke and fire.
Video captured from the tarmac shows passengers leaping from the aircraft, as flames engulf its body and smoke billows into the air. The people then flee down the runway, away from the wreckage.
"Please, please, guys, come on, hurry up!" a voice behind the camera begs, as people are seen fleeing.
The plane was extinguished by fire crews minutes after the evacuation, and ambulances rushed to the scene to tend to the injured. The final death toll may exceed 41, as some survivors remain in critical condition.
The fire consumed much of the plane's fuselage, stripping the airliner down to its metal frame. Sukhoi said the craft completely burned out.
Also on rt.com
13 people, including 2 children, confirmed dead in Superjet-100 crash-landing in Moscow
Like this story? Share it with a friend!
You can share this story on social media: