Big city lights: Rare Amur tiger enjoying night landscape caught on camera in Russia's Far East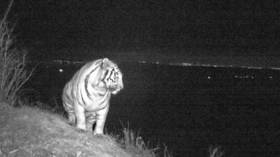 A camera trap has captured the rare sight of an endangered Amur tiger strolling at night through a national park in the Russian Pacific city of Vladivostok.
The image, shared by the "Land of the Leopard" national park in Russia's Far East, shows the tiger gazing at the light emanating from the city in the distance. The national park also shared pictures of rare Amur leopards with the caption "Wild cats in the city! But no panic! A part of the national park's territory belongs to the Vladivostok city region."
Currently, 91 adult Amur leopards and 22 cubs, as well as 30 adult Amur tigers and 9 cubs live in the Land of the Leopard National Park, according to its data.
Дикие кошки в городе! 🙀 Дальневосточный леопард и амурский тигр были отмечены фотоловушкой в пределах Владивостока. Однако без паники 😺Дело в том, что часть национального парка «Земля леопарда» территориально входит во Владивостокский городской округ. https://t.co/bcioqUoUMPpic.twitter.com/5bqxe0TcKa

— Земля леопарда (@Leopard_land) April 23, 2019
The animals tend to avoid people and spotting one near a populated area is extremely unlikely, however, residents of the villages in the Far East have complained about tigers hunting pet dogs in the winter months.
Also on rt.com
Just another day in Russia: Massive Siberian tiger seen casually strolling along highway (VIDEO)
Amur tigers are considered the world largest wild cat species. They were once found throughout the Russian Far East, northern China, and the Korean peninsula, but hunting had driven the Amur tiger to the brink of extinction by the 1940s. The species was saved when Russia became the first country in the world to grant the tiger full protection.
In 2010, Hollywood actor and director Leonardo DiCaprio, who is also a prominent environmental activist, took part in the first summit to save the tigers and met with then-Prime Minister Vladimir Putin to discuss conservation efforts.
Like this story? Share it with a friend!