Majority of Russians believe Assange wanted to expose corruption & crime – poll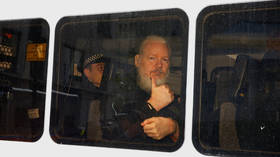 Following the arrest in London of Julian Assange, a new poll shows that a large share of Russians support the WikiLeaks' co-founder and view him as a champion of press freedom and a humanitarian.
As many as 45 percent of Russians believe that by publishing secret US papers, Assange was guided by the principles of press freedom, according to the Russian Public Opinion Research Center (VTsIOM). Around 40 percent of the respondents think that Assange acted for the benefit of the public worldwide, while 57 percent said that Assange wanted to bring attention to corruption and crime in different countries.
Also on rt.com
6 of WikiLeaks' biggest ever document dumps
However, at least a quarter of Russians (27 percent) believe that Assange broke the law by releasing confidential documents. While 17 percent think that he did it for personal gain, another 16 and 17 percent believe he acted on behalf of other states and parties, or wanted to get revenge against his enemies and gain publicity.
On April 11, Julian Assange was arrested by UK police and expelled from the Ecuadorian Embassy, where he lived for seven years, seeking refuge from a British arrest warrant and US extradition requests, after the country's president, Lenin Moreno, revoked his political asylum.
Also on rt.com
Exposing 'collateral murder' and mass surveillance: Why the world should be grateful to Assange
Many public figures, among them former Ecuadorian President Rafael Correa, 2020 US presidential candidate Tulsi Gabbard, UK Labour Party leader Jeremy Corbyn, as well as whistleblowers Edward Snowden and John Kiriakou, condemned the arrest of Julian Assange, calling it a blow to transparency and a free press.
You can share this story on social media: