'Toys for murder & death': Moscow may forbid kids to play with monsters & vampires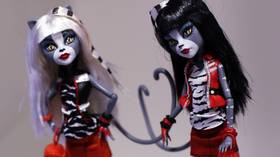 Dangerous toys that harm Russian children through bizarre looks and the unsafe material from which they are made off must be taken off the shelves, Moscow legislators have urged.
The toys, sold in stores across Russia, are "for murder and death," Tatyana Batysheva, Moscow City Duma MP and the capital's chief child neurologist, said.
It's wrong when children are given dolls with "fangs in their jaws" and "blood in their mouths," she added. The young ones fall for monsters and vampires because they're always impressed by "something unusual."
They traumatize the children's minds and I think such scary toys must be categorically banned.
Batysheva said that a special lab at the University of Psychology and Education had studied monster toys and revealed that they contribute to increase in anxiety and depression among the kids.
Депутаты Мосгордумы предложили запретить детские игрушки в виде монстров и вампиров. Зампред комиссии по соцполитике и трудовым отношениям Татьяна Батышева указала на некачественные материалы, а также на «страшные зубы» и «кровь во рту».https://t.co/nl90MCUjHypic.twitter.com/1F8skuLbLp

— #говоритмосква (@govoritmsk) April 15, 2019
Monsters shouldn't be the subject of children's games, especially when aggression is on the rise in the society, she pointed out.
The lawmaker believes people must be informed about the dangers before "all those toys are removed from the shelves." They must be replaced with playthings that "teach the kids of something positive, kind and good."
Another problem is the low quality and unsafe materials which are sometimes used by toy makers, Batysheva said, adding that the state should pay special attention to this.
Also on rt.com
'All out of anti-Russian stories?' Times gets grilled for calling 'Masha and the Bear' propaganda
In early April, the Association of the Industry of Children's Goods warned that the prices of toys may have to increase by at least 20 percent in Russia due to the planned introduction of their preliminary evaluation which the Economic Ministry is pushing for.
Like this story? Share it with a friend!