Bullseye: MPs vote to allow Russians to hunt with a bow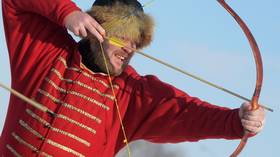 It's back to basics for Russian hunters as the State Duma has supported the draft law allowing them to use a bow to catch their prey.
The MPs passed the bill, which includes the bow into the list of hunting weapons, in the first reading earlier this week.
The proposed legislation only calls for an exception to be made for bows, while crossbows will still remain outlawed.
"Unlike crossbows, the use of bows requires the hunters to develop special physical skills and abilities and its technical characteristics guarantee their safer use," the authors of the legislation said.
They insisted that thousands of law-abiding Russians currently own bows, but can only use them at special shooting galleries. "Many of them also take part in bow hunts abroad as it's allowed in 20 European countries, the US, Canada, Australia, and Belarus," the MPs added.
The introduction of the bow as a hunting weapon "will have a positive effect on the development of Russia's hunting industry and help facilitate Russia's image as a great hunting nation," they said.
If the bill becomes law it will allow all owners of a hunting permit in Russia to get a bow and arrows to use for their hunts. The weapon is to be sold without restrictions but would require registration with the National Guard within the two weeks after the purchase.
Also on rt.com
Hunting season on governor, who allegedly killed hibernating bear and told teen to shoot caged boar
The initiative of the MPs has been welcomed by the hunters, who said that the use of the bow is what makes the hunt "genuine."
"Bow hunting is more difficult and allows for less prey than hunting with firearms, but it's also more interesting," Vasily Solkin, a hunter and a publisher of a dedicated magazine, said.
Despite a modern bow being "a complex and effective mechanism," it still "don't do all the work for the hunter" and requires them to use genuine skill and technique, Solkin added.
Think your friends would be interested? Share this story!