Russian policewoman fired for organizing striptease to entertain male colleagues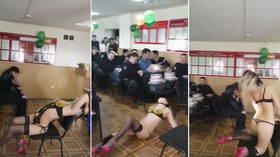 A naughty surprise for police officers on Russia's Men's Day caused a scandal and landed a senior police officer in hot water after footage of a stripper performing a dance for male cops leaked online.
Footage showing a lingerie-clad girl performing an erotic dance in front of police officers to the song 'Stop' by Sam Brown was posted on YouTube by an anonymous police source and went viral.
Many users were outraged by the show and called it a "disgrace" for the police, while others joked that the male officers look rather embarrassed as they try not to look at the stripper.
The video shows police officers, both male and female, mostly laughing and cheering at the performance, with some looking uncomfortable and eating cake. A female officer is heard saying to a male colleague: "This is the wrong reaction" as he apparently looked away.
It was revealed that the Men's Day celebration took place in a police station in the city of Ulan-Ude, the capital of the Republic of Buryatia, a Buddhist region of Russia.
Also on rt.com
'Make it hurt': Police raid underground BDSM club in Russia (VIDEO)
Russia's Interior Ministry didn't appreciate the idea either. The authorities promptly launched an investigation and within 24 hours found out who invited the striptease dancer. The senior police officer who hired the stripper was fired and four other senior officers were reprimanded for their "low level" decision-making and violation of police ethics.
The holiday, officially called 'Defender of the Fatherland Day', dates back to Soviet times when it was known as 'Red Army Day'. To celebrate the holiday, women traditionally give gifts to the opposite sex.
Like this story? Share it with a friend!
You can share this story on social media: