Russia's Su-57 may get 'Kinzhal-like' hypersonic missile for internal bay – report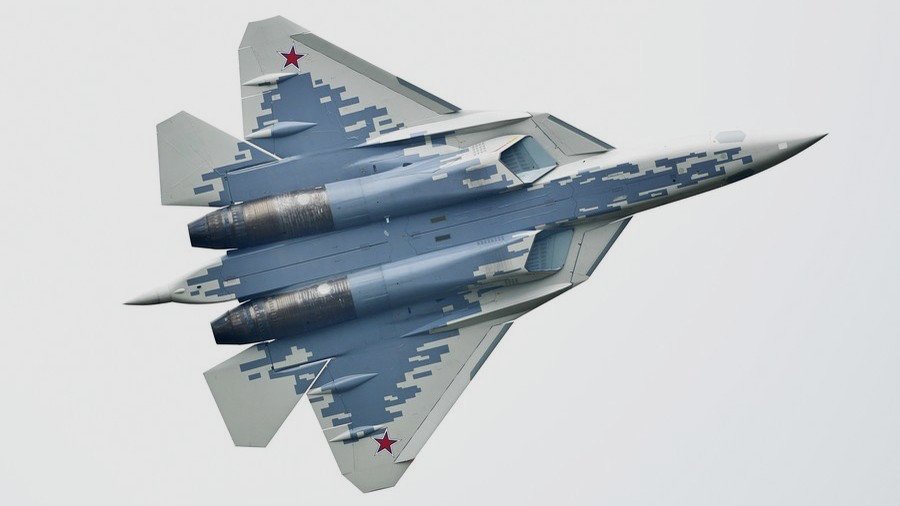 The advanced Sukhoi Su-57 multipurpose jet may be armed with a hypersonic missile similar to the Kinzhal. Unlike the large already-introduced projectile, the future one will be small enough to fit inside the weapons bay.
Kinzhal is Russia's freshly-introduced air-launched ballistic missile which can fly at Mach-10 speed and has a reported range of 2,000km (1243 miles). The weapon needs to be fired from an already fast-moving platform, like the Mig-31K interceptor or a Tu-22M3 bomber.
There has been some speculation that the Su-57, Russia's first fifth-generation fighter jet, will eventually be able to deploy the advanced projectile as well.
The Russian military want to arm the Su-57 with a smaller hypersonic missile capable of fitting inside the stealth aircraft's weapons bay, according to an aviation industry source cited by TASS. The alternative of fitting the large Kinzhal on a hard point, would have increased the jet's radar cross-section.
The development of the new missile is part of Russia's current military buildup program, which covers a period between 2018 and 2027, the source said. No details about a timetable for the development or the planned specifications for the missile were offered. The Defense Ministry would neither confirm nor deny the information.
Also on rt.com
Is Russia developing air-launched satellite killer? PHOTO of mystery missile test sparks theory
The Kinzhal missile is currently in test service in the Russian military. It was made public earlier this year by President Vladimir Putin as part of a larger presentation of advanced and future Russian weapons meant to counter US development of anti-ballistic missile technologies.
Some sources say the projectile is partially derived from the land-launched 9K720 Iskander missile, and is capable of destroying large moving targets like an aircraft carrier while avoiding air defenses, thanks to its tremendous speed and high maneuverability.
If you like this story, share it with a friend!
You can share this story on social media: