Fireball traffic smash: Car and truck collide in explosive crash (VIDEO)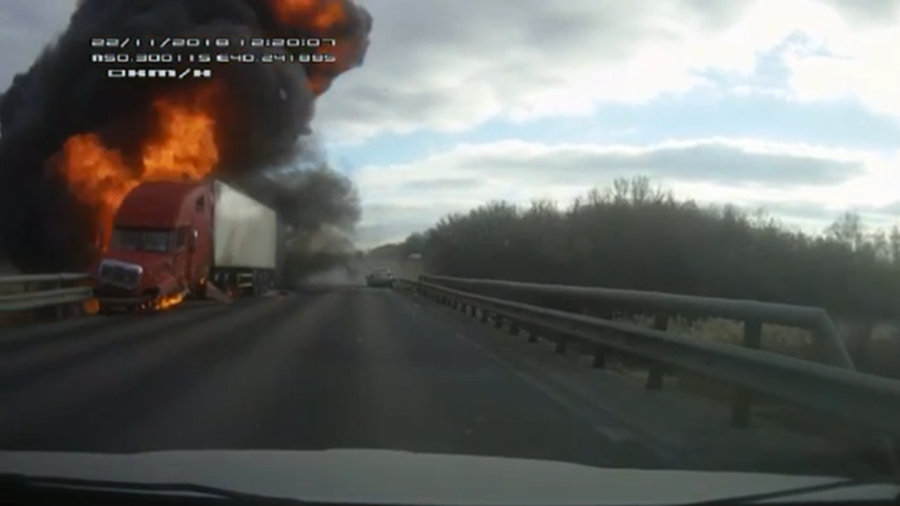 A massive explosion that ripped across two lanes on a Russian highway was caused when a stray wheel forced the driver of a family car to swerve into the path of an oncoming truck.
Shocking dashcam footage of the crash near the Russian city of Voronezh, about 500 kilometers south of Moscow, depicts the cabin of a truck erupting into a ball of flames as it collides with a Ford Focus car.
The video of the harrowing incident, obtained from a passing motorist, reveals how a heavy goods vehicle appears to lose a wheel on M4 Don Highway. As the stray wheel careers across the road and rolls into the path of a Ford Focus, the car's driver is forced to take action – with disastrous results.
READ MORE: Torn to shreds: Moment of horrifying car crash in central Moscow caught on camera (VIDEO)
The vehicle inadvertently swerves in the road and into the way of a truck coming in the opposite direction. As the car smashes into the left-hand side of the oncoming vehicle, the large cargo truck skids into the central reservation of the highway before bursting into a fireball.
Thursday's incident follows another serious accident in the region last September, when four people died and 37 were injured as two buses collided.
If you like this story, share it with a friend!